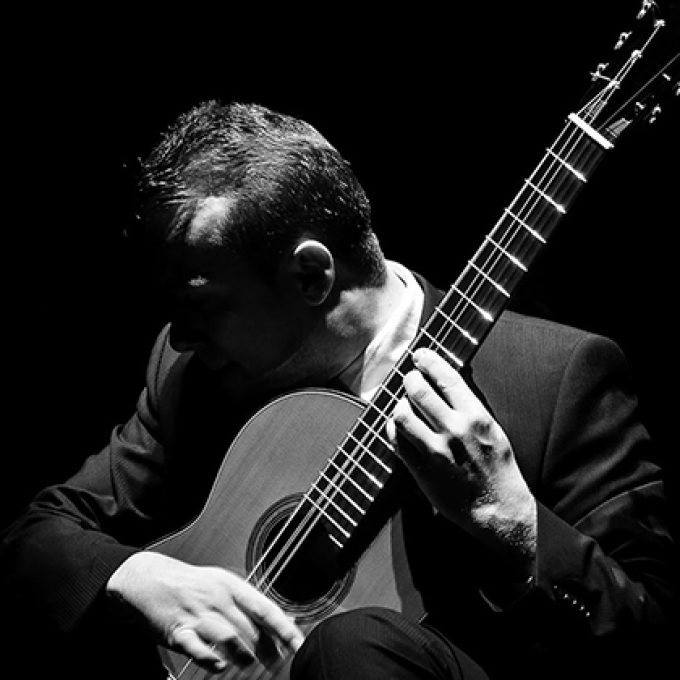 Sanel Redžić is one of the most promising and virtuoso guitarists of the younger generation who, with a wide repertoire from baroque to modern music, has created an important name on the international scene.
He was born on July 25, 1988 in Tuzla, Bosnia and Herzegovina.
"a guitarist of impressive skill"
Jazzthetik, Germany
"Redžić's sensibility for classical guitar is rarely known in these areas (…) A guitarist with a great musical career ahead of him"
BiH magazine "Dani"
"an outstanding representative of the young guitar generation who surprises with unusual musical maturity"
Bonner Meisterkonzerten, Germany
"Through his performance, Redžić precisely expressed the depth and dignity of the music in a refined manner with a very controlled tone."
Gendai guitar magazine, Japan
He started learning the guitar at the age of eight at the Elementary Music School Tuzla, where he finished his education in 2007 with the highest grades. After that, Sanel enrolled at the Music Academy "Franz Liszt" in Weimar, where he completed his graduate, master's and concert exam studies with the greats in the world of guitar – Thomas Müller-Pering and Ricardo Gallen.
Since 2006, Sanel has been constantly performing around the world, both solo and in various chamber ensembles and with orchestras, and has so far delighted the audience and the media at several hundred concerts in Bosnia and Herzegovina, Croatia, Serbia, Montenegro, Slovenia, Hungary, the Czech Republic, and Bulgaria. , Ukraine, Poland, Austria, Germany, Switzerland, Belgium, Spain, Italy, France, Netherlands, Great Britain, Greece, Cyprus, Portugal, Mexico, Chile, China, Japan, India, Iran and USA. He has performed on prominent stages such as Concertgebouw Amsterdam, Tokyo Bunka Kaikan Recital Hall, Hakuju Hall and Yamaha Hall in Tokyo, International House of Music in Moscow, Smetana Hall in Prague, Gasteig in Munich, National Philharmonic of Ukraine, Philharmonic Paul Constantinescu Ploiesti and many others. With the well-known Bosnian-Herzegovinian band "Divanhana", Sanel constantly collaborates and expands musical horizons beyond classical music. Evidence of this is numerous joint concerts and sound carriers.
By winning a scholarship at the largest German classical music competition held in Bonn in 2016, Sanel got the opportunity to perform in duets with cellists throughout Germany in the 2017/18 season.
At international competitions such as Tokyo and Tychy, "Forum Gitarre Wien", Markneukirchen, Changsha in China, Parkening competition in Malibu, "Anna Amalia" Weimar, Fernando Sor Rim, Emilio Pujol Sassari, Iserlohn, "Andres Segovia" Velbert, Kutna Choir, "Guitarmania" in Lisbon or "Guitar Art Festival" in Belgrade, has won 36 important awards and recognitions for its work. In the meantime, he himself became a member of the jury at many competitions for young guitarists, and regularly holds masterclasses at festivals around the world and at prestigious universities.
Since 2006, Sanel Redžić has recorded CDs in Sarajevo, Leipzig for MDR, Cologne and Belgrade. In addition, he had the opportunity to record for many radio and TV stations.
Many composers such as Vojislav Ivanović, Konstantin Vassiliev or Jan Depreter wrote and dedicated some of their works to Sanel Redžić.
Sanel Redžić decided to transfer his knowledge and experience to young guitarists and musicians, and in connection with this, he started a guitar summer school in 2016, which was held in Zlača near Tuzla until 2021. Starting in 2022, he will start the Tuzla Guitar Week, where he will continue this idea and where he plans to collaborate with professors from Europe and the world. He currently teaches at the Music Academy "Franz Liszt" in Weimar and at the University of Erfurt, Germany.
International awards:
1st place – Guitar Art Festival Belgrade 2005
1st place – Forum Gitarre Wien 2005
1st place – International guitar competition Szeged 2007
1st place – International GuitarFest Banja Luka 2007
1st place – Anna Amalia guitar competition Weimar 2009
1st place – International biennial guitar competition Kutna Hora 2009
1st place – International guitar competition "Scharpach" Oberhausen 2010
1st place – International guitar competition "Guitarmania" Lisbon 2011
1st place – International guitar competition Tokyo 2012
1st place – International guitar competition Changsha, China 2013
2nd place – Anna Amalia guitar competition Weimar 2005
2nd place – Andres Segovia guitar competition Velbert 2006
2nd place – International biennial guitar competition Kutna Hora 2007
2nd place – International guitar competition "Guitarmania" Lisbon 2009
2nd place – Word guitar competition Novi Sad 2010
2nd place – International guitar competition Mottola 2011
2nd place – International guitar competition Emilio Pujol Sassari 2014
2nd place – Jeunesses Musicales music competition Belgrade 2018
3rd place – International guitar competition Split 2008
3rd place – International guitar competition Calcutta, India 2010
3rd place – International guitar competition Sernancelhe 2011
3rd place – International guitar competition "Printemps de la Guitare" 2011
3rd place – International guitar competition Sernancel